Your running shoes can be your greatest ally or your biggest foe. If you don't manage to get the right fit, you will end up with painful blisters, hurting feet, or even worse–an injury. However, if you choose your shoes using the following tips, you will absolutely love the process and stay strong as you get to the finish line.
The anatomy of a running shoe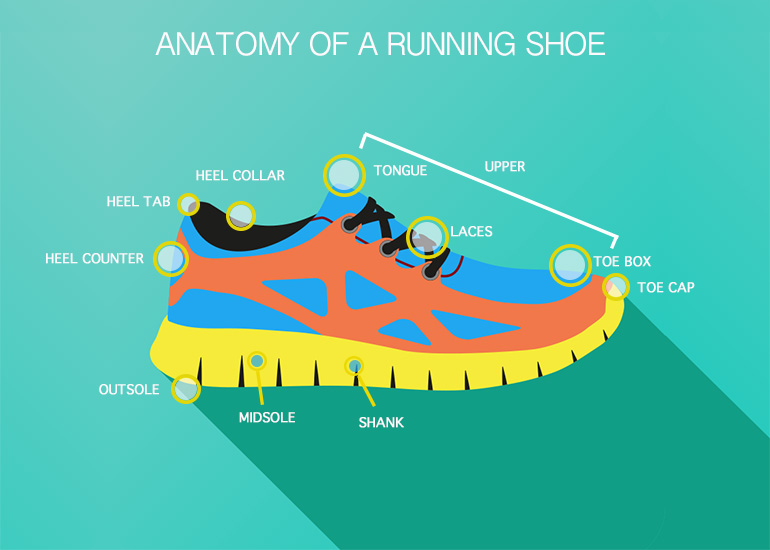 The anatomy of a running shoe: the sole, the insole, the heel counter, the toe box, and the upper.
Each shoe has the same five core elements that are designed to make running a pleasure:
The sole (or outsole) is the part of the shoe that touches the ground while running.
The insole is located inside the shoe and supports the bottom of the foot.
The heel counter supports and protects your heels.
The toe box surrounds the toes in the front of your shoe.
The upper part covers the top of your feet and supports it above the sole.
Best running shoe for your foot type
Your feet will fall somewhere between supination and overpronation.
What is your foot type? It can fall in one of three categories and is defined by the way your feet get in contact with your shoe:
Low arch means that you tend to wear down your shoes toward the inside of the shoe. This is called overpronation.
Medium arch tells us that your feet stay neutral, and you wear down your shoes midfoot.
High arch hints that you wear down the outside part of your shoes, which is called supination.
Running shoe types – how to get the right fit?
Choose the right type of footwear: pick neutral, stability, or motion control shoes.
Your arch type defines the right shoe type for your feet. Most of the time, people that have neutral arch type will be best suited to use neutral shoes, runners with low arches will choose between neutral or moderately flexible stability shoes, or try out slightly heavier motion control shoes that stabilize your feet. People with high arches will benefit from neutral shoes with a bit of added cushioning to manage their feet' supination.
Choose the right type of running shoes
Let's dive deeper into this topic with a couple of examples:
Pick your neutral shoes from the most popular models such as Brooks Ghost 13, Mizuno Wave Rider 24, New Balance Fresh Foam 880v10, Saucony Ride ISO 2, Nike Air Zoom Pegasus 37
Choose your stability shoes from such models as Brooks Adrenaline GTS 20, Saucony Hurricane 22, Nike React Infinity Run Flyknit, Saucony Guide 13.
Find the right motion control shoe for you among such models as Saucony Grid Stabil, Asics Gel-Fortitude, Brooks Addiction, New Balance 1260, Brooks Beast 16.
Do you need cushioned running shoes?
Your running goals can help you define the amount of cushioning needed for your shoes. Cushioned shoes are heavier and can be used while training for longer races that focus on endurance, while lighter shoes are best for improving performance and can be used on both marathons and sprints.
Also, you might want to consider your body weight. If you weigh more than 150 lbs (for women) or more than 180 lbs (for men), you could benefit from shoes with additional cushioning.
Avoid common mistakes with these shoe buying tips
Before stepping into the shop, ask yourself the following questions:
What is your end goal? There are three main directions a runner can go: casual running, racing, or long-distance running. Your goals can vary from anything between getting slightly fitter to completing an Ironman.
What is your preferred surface for running? You will need a different shoe for road running, trail running, and treadmill running.
What is your feet type? Your arch type will help you define the model of your shoe, including stability, flexibility, and cushioning.
What is your real shoe size? Consider the shoe length and width, heel fit, and comfortability. You should always get a slightly larger size than usual because your feet will expand while running, and your feet constantly move inside the shoe. Always shop for shoes in the evening and keep your nails short to avoid injuries.
If you are a beginner, don't choose shoes by their looks. Consider the four essential factors listed above, experiment with different kinds of shoes, and don't be afraid to ask for advice from professionals.
Important note! Any pair of shoes will last for around 300-500 miles (or 500-700 kilometers). Keep that in mind and ensure that you don't strain your feet trying to make the most out of your old footwear. If your feet start to feel tired or uncomfortable after a run, it might be time to try on a new pair.