What is half a marathon?
If you are thinking about running a half marathon, you are not alone. Apart from 5k, half marathon has become the most popular race distance worldwide and according to Running USA Half Marathon Finisher Trends report, 2.1 million runners finished half marathon in United States in 2022 which was 6% more than a year before.
Half marathon, often referred to as a 13.1-mile race is a popular and achievable goal for many runners as it balances between intensity of a 10K race and high endurance required to run a full marathon. It is perfect for those who have already mastered the 5K and 10K races and are looking for the next challenge.
The exact origins of half marathon are less clear than they are for full marathon, and the earliest use of the term dates back to the 20th century. Birchfield Harriers athletics club has been credited as one of the earliest pioneers of half marathon when they organised Birchfield Harriers Half Marathon in 1909 which was roughly 13.1 miles long. Half marathons became increasingly popular in 1960s and 1970s with the rising popularity of marathon running although the first half marathon race in the United States was held already in 1911.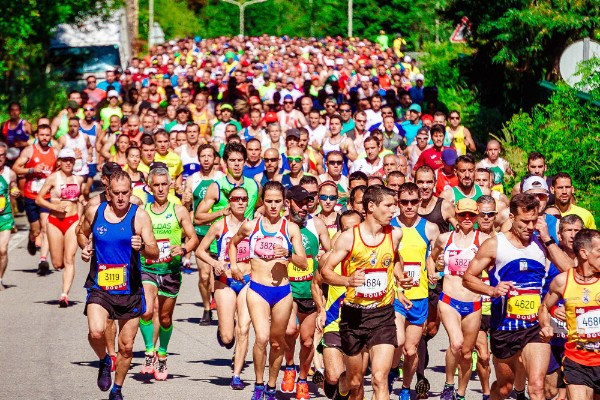 Why you should consider running half marathon?
Running half marathon can be a transformative experience and it can have a positive impact on your life in more than one way. Here are just some of the few of them:
Its a tangible goal for many individuals
Half marathon is a significant step-up from shorter races, yet it does not require the same extensive training and preparations as a full marathon, thus it is something that anyone can achieve with proper training and preparations.
Its a great way to improve your fitness
Running is a great way to improve your muscle strength, respiratory health and cardiovascular health.
Its a great way to have fun and meet new people
Half marathons are often held in scenic and beautiful locations and they attract a lot of people from different walks of life, thus running half marathon can be a great way to socialise and to see new places.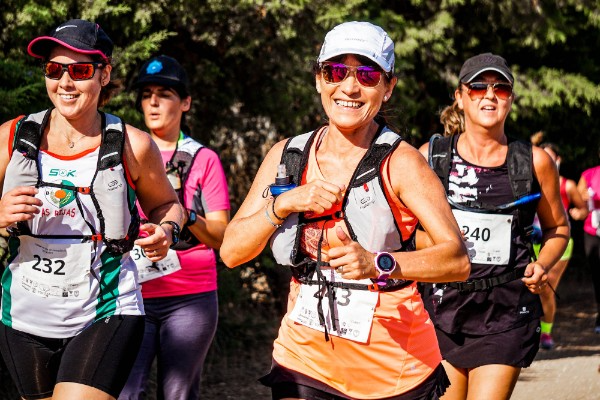 Its a great way to achieve set goals
Half marathon is challenging but at the same time attainable goal for most individuals and finishing your first half marathon can bring you great sense of accomplishment and boost your self-confidence.
How long does it take to train for half a marathon?
The amount of time it takes to prepare for half marathon depends on multiple factors and there is no one-size-fits-all plan to prepare for it. The duration predominantly depends on your fitness level, running experience and the goals you set for yourself, but on average most people opt for plans between 6 to 16 weeks.
For beginners who are relatively new to running, a typical plan might last between 10 and 16 weeks
For intermediate runners who have some running experience but have never run such a long distance as half marathon, training program can be between 8 and 12 weeks.
For advanced runners who might have already completed one or multiple half marathons the training plan could be even shorter and range between 6 and 10 weeks.
How to choose the right half marathon training plan for you?
Selecting the right half marathon training plan is a crucial first step in your journey to reaching your goal. As previously mentioned, there is no one-size-fits-all training plan so there are a few considerations to keep in mind when choosing the right training plan for you.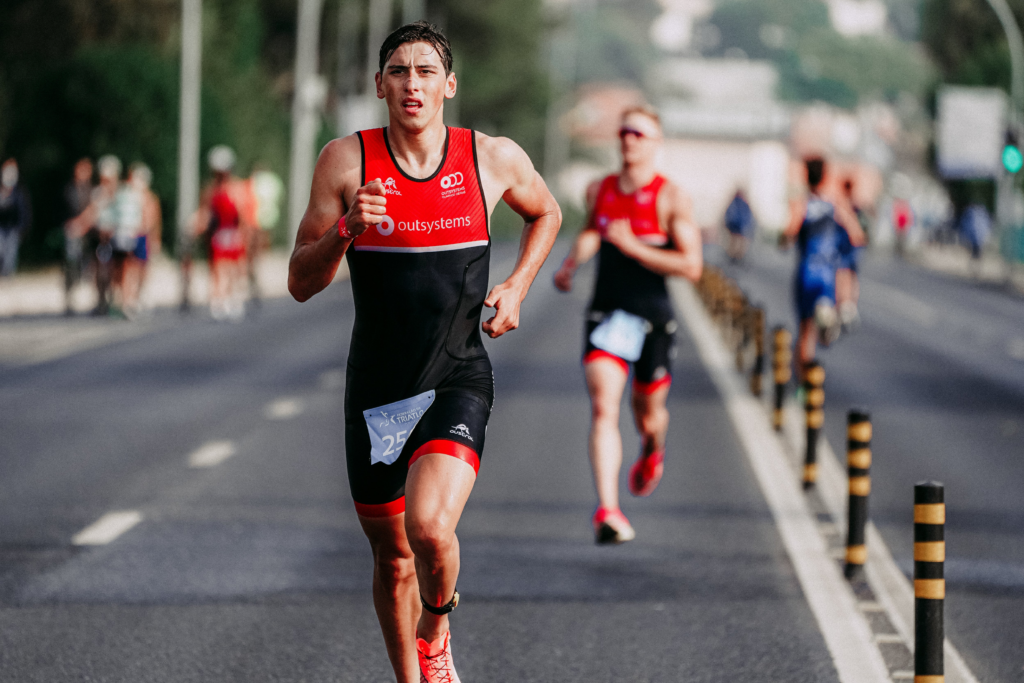 Assess your current fitness level
Before choosing the plan, evaluate your current running ability, experience and overall physical readiness. If you are an experienced runner you can take a more challenging plan whereas if you are only starting, its better to pick one which is more gradual.
Available time to train and training duration
Assess how much time you will be able to commit every day and every week for training. If your time is limited, its better to go for a less ambitious training program.
Be clear about your goals
What goal do you want to achieve with the training plan. Are you just preparing to run a particular half marathon or is it only the next step in running a full marathon. Choose a plan that is aligned with your goals.
Listen to your body
Pay attention to how your body is responding to any particular training plan. If a particular training plan feels too challenging or results in injuries, switch to a less demanding training plan or if the training plan you have started with feels too easy, you can always pick a more difficult one.
6 week half marathon training plan
If you are already an experienced runner, 6 week training plan could be the right plan for you. The plan is designed for advanced runners who can already run 3-4 miles comfortably. The plan includes a mix of easy runs, long runs and speed workouts. The easy runs are for building endurance, the long runs are for preparing tour body for the race distance and the speed workouts are for improving your running speed.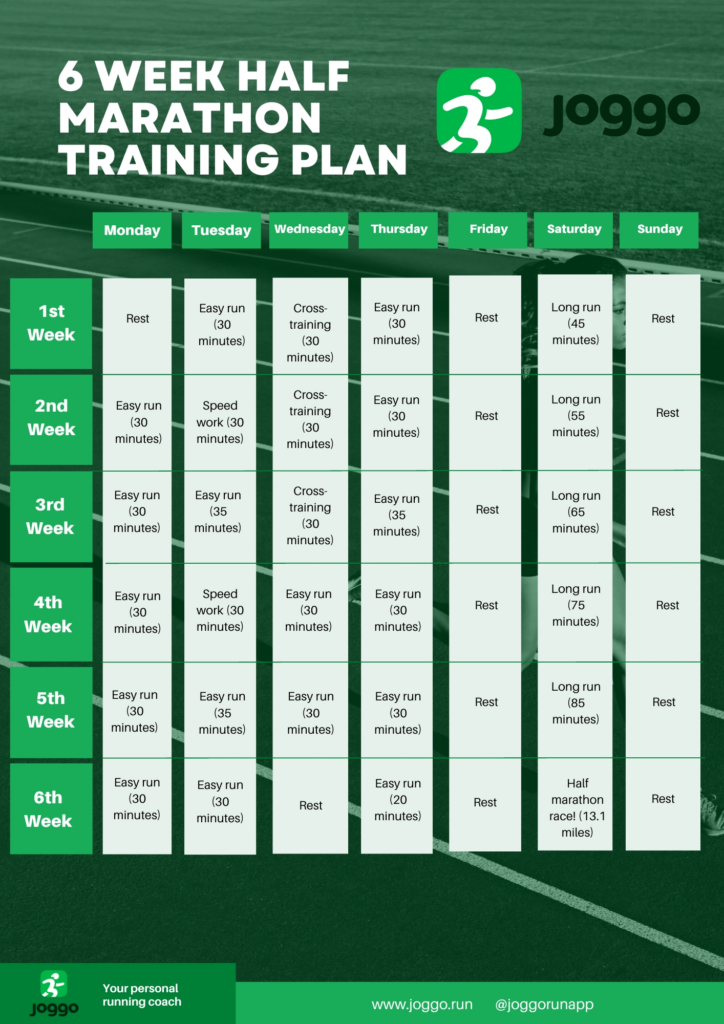 12 week half marathon training plan
The 12 week training plan is designed for intermediate runners who can already run 6-8 miles comfortably. It includes a mix of long runs, cross-training , speed workouts and easy runs to prepare yourself for the race distance, build endurance and improve your running speed.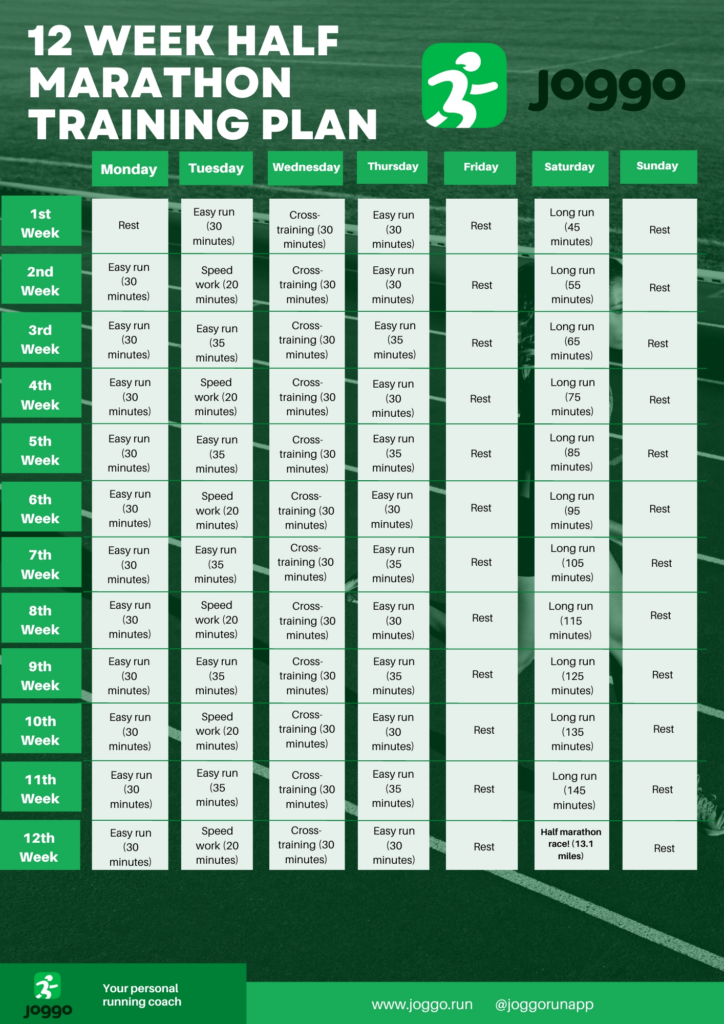 16 week half marathon training plan
If you are only beginning your training journey, then 16 week plan might be the right plan for you. The plan starts with a low mileage and gradually increases the distance with each week. Same as for other plans, the 16 week training plan includes easy runs, long runs and cross training.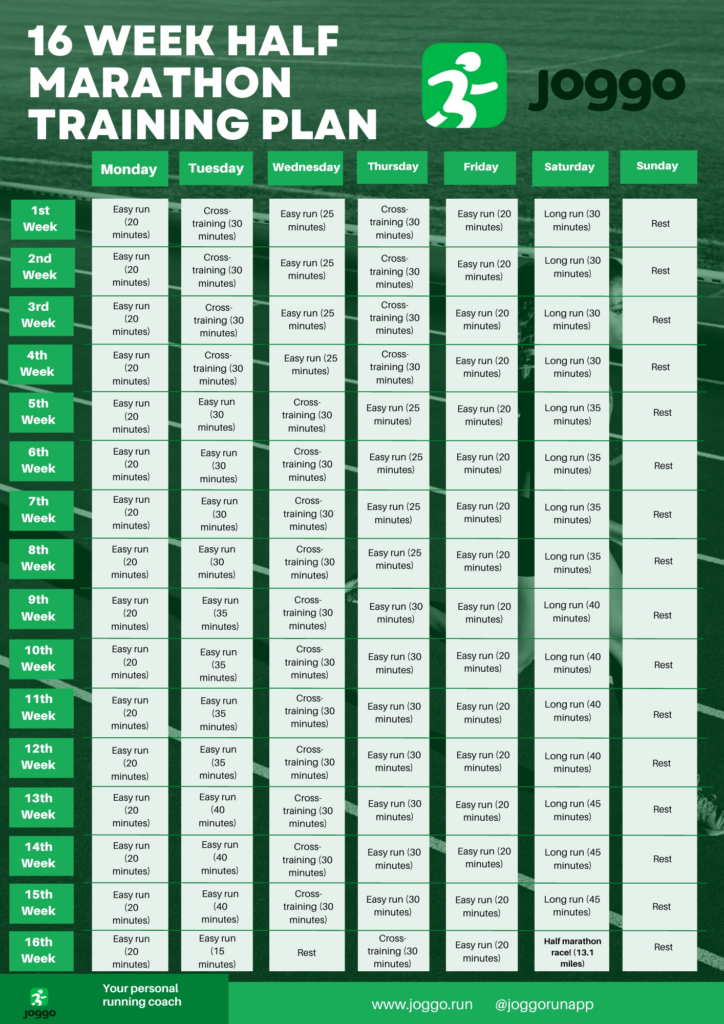 What to expect during half marathon training?
Training for half marathon can be exciting yet daunting experience for many. Here are some of the things you can expect while embarking on this journey.
Increased mileage
While training for half marathon you can expect your weekly mileage to gradually increase as you will be progressing through your training plan. This will help you to build endurance and prepare your body for long races.
Mixture of workouts
Half marathon training plans include a mix of easy runs, speed workouts and long runs. Combination of different type of workouts will help you to improve your running speed, build endurance and prepare you for long distance runs.
Fatigue
Training for half marathon is hard work and it can be expected that you will be experiencing fatigue from time to time. Its important to listen to your body and have plenty of rest. Thats why all plans include certain amount of rest days. If you feel too exhausted after first few weeks of training, it might be recommended to switch to a less intensive training plan.
Soreness
You can expect some muscle sourness during the half marathon training, especially if you are a novice runner. This is completely normal as your body is adjusting to the increased demand of training, but if you are experiencing severe pain, you should reach out to your doctor or physician.
Setbacks
It is also completely normal if you experience setbacks during your half marathon training. It could be injury, illness, scheduling problems or you might just not feel like running on a particular day. Setbacks are to be expected, and the most important thing is to not give up, pick yourself up and keep going.
Half marathon training tips
To effectively prepare for your first half marathon, picking the right half marathon training plan is only the first step. To improve the effectiveness of your training program and make you better ready for a half marathon, here are additional tips which we believe might help.
Be consistent
One of the most important things you need to do if you want to finish a half marathon is to be consistent with your training. You should aim to go for a run at least 3 times a week and include a mix of easy runs, long runs and speed workout in your training plan.
Listen to your body
If you are feeling tired, sick or sore – take a break. Pushing yourself too hard can lead to serious injuries which can prohibit you from continuing with your training.
Stay hydrated and eat healthy
While training for a half marathon it is important to provide your body with the right fuel and hydration. Eat plenty of vegetable, fruit and whole grains and don't forget to drink plenty of water.
Get enough sleep
Sleep is essential for muscle recovery and to keep your energy levels in check. Aim for between 7 and 8 hours of sleep every night.
Find a training partner
Everything in life can be more interesting if you have someone to do it with and the same goes for marathon training. Finding a partner with whom to go through the training plan can keep you more motivated and accountable as well as make the training more fun.
Tips and strategies for the race day
After all of your hard work put into marathon training the race day is finally here. Here are some tips to make the most out of the race day and to achieve your goals.
Arrive early
If possible, arrive early at the running venue on the marathon day. This will give you plenty of time to use the restroom, find your starting corral and warm up.
Start at the pace which feels comfortable
Don't try to go too fast at first as then you will be at risk of burning out too early. Start at a pace which feels comfortable and then you can gradually increase your pace from there.
Drink plenty of water and electrolytes
The importance of staying hydrated during a half marathon run cannot be overstated. Ensure that you are drinking enough water and electrolytes to sustain you during the long run.
Enjoy your run!
And always remember to enjoy your run. Soak in the atmosphere and the scenery, meet other runners and celebrate your results when crossing the finish line – you deserve it!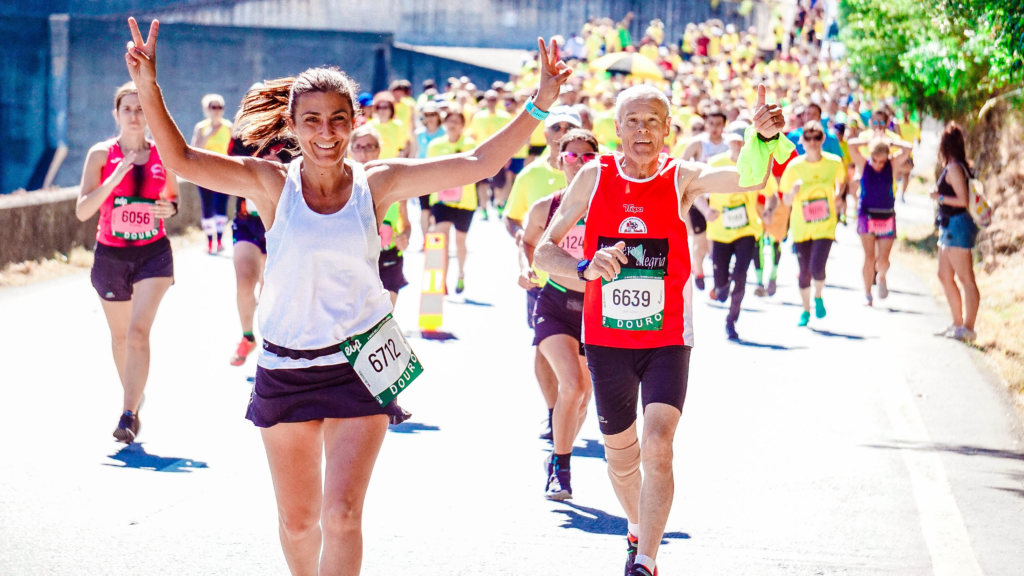 Conclusion
Half a marathon has become one of the most popular types of races worldwide and is a perfect race for people who already have conquered 5K and 10K and are looking for their next challenge. There are a lot of different training plans to choose and on average training takes between 6 and 16 weeks depending on your fitness level, so you should pick carefully and choose one which best suit your particular situation. A good half marathon training plan should also include a mix of different exercises such as interval runs, long runs and cross-training. Remember to be consistent, listen to your body, get plenty of sleep, water and healthy food. And most importantly – remember to have fun while you are doing it!
References